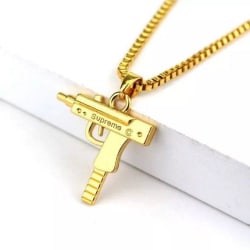 More details:
Winner did not receive prize
Giveaway: 1 Year Anniversary Giveaway
(Delivered)
Heavy Flex Jewelry has grown tremendously throughout the last year! To celebrate our 1 year anniversary, We are giving away FREE SUPREME UZI chains!!!
Prize: Gold Supreme Uzi (Gold Uzi)
Available on heavyflex.com
Estimated Value: $20.00
10k Rope Chain Included Supreme Platinum Gold Plated Supreme Uzi Free World-Wide Shipping
Consolation Prize: 15% Off Store-wide
Anyone who enters but doesn't win the Gold Supreme Uzi (Gold Uzi) will receive a code to unlock the discount.
Giveaway Status:
Winner Selected

10/26/2018

Heavy Flex has received up to 372 karma for delivering the prize!
These were the winner's odds
Yet more giveaways for you (new and somewhat related)